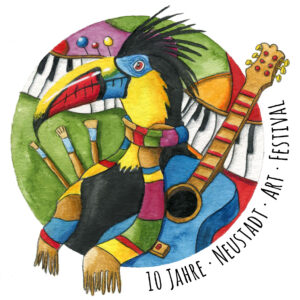 Here we go again!
Now that the first hurdle is overcome, we are entering the hot phase of preparation! First posters are being made, the big drum is being beaten, first new contacts are arranged and planning to implement new ideas has already begun. The eleventh Neustadt Art Festival is starting preparations.
At this point, once again, huge thanks to the numerous submissions after our call for suggestions. Your reviews helped us a lot!
We are looking for creative people and art lovers again and want to encourage and inspire you to showcase your ideas during this year's Neustadt Art Festival.
No matter what you can offer – painting, photos, theater, music, street painting, elegant noise, fire show, acrobatics, workshops, books, poetry, discussions… – Anything is possible at the Neustadt Art Festival! And if you don't have any ideas, but you own a big attic, a garage, an old factory building or any other kind of space that could be suitable for art, then you could be one of the pillars of this festival and be the base for all the beautiful experiences to come. Because with the Neustadt Art Festival we put great emphasis on connecting artists with each other and places, opening up new and unknown spaces is exactly what makes this festival so incredibly special and unique!
Gather your ideas! And if you are already certain you would like to contribute something this year, you can sign up on our notice board (Buntes Brett) now.
Apart from that, there will be a monthly meeting at the Alaunpark from July onwards – of course with prior notice – where you can ask all of your questions. Or you can use our contact form or write an e-mail to programm@neustadt-art-festival.de!
We looking forward to seeing you!
🙂 Your NAF – orga – team 🙂